American chef Paul Prudhomme once said, "You don't need a silver fork to eat good food", but it might as well have been a quote by Anthony, co-founder of Wisey's Pies and Backhouse. As busy PR agents constantly on the go, and (of course) long time fans of good food, the On Q Communications team instantly fell in love with this Toronto-based pie company when we discovered them just steps away from our office. Since then, the addiction has grown, and we are beyond excited to announce that we have added Wisey's to our client roster!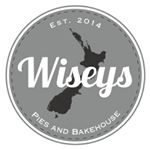 Conveniently located in the trendy neighbourhoods of Leaside and Roncesvalles, Wisey's is preparing itself to take over the Toronto food scene. Anthony is set to open a warehouse within the city, and after that there will be no stopping him. We are happy to be joining Wisey's on this new journey and help grow this amazing business!
If you are looking for amazing and convenient food, check out these two locations for an array of pies and treats, as well as amazing Pilot coffee. Our favourite savoury options include the classic Steak and Mushroom and Chicken curry pies, and when we need a lighter pick me up, a cold brew and a scone makes for the perfect treat. Wisey's is your delicious one stop shop for all your food cravings.
The Wisey's brand has attracted the attention of the media throughout Toronto since it opened for business, with The Toronto Star and BlogTO falling in love with this authentic New Zealand style cuisine. Now it's our mission to make sure everyone gets to taste these delicious treats!  Just one bite and we are convinced that you'll fall in love. To find out more information about Wisey's Pies, check out the company's website and Instagram.
As longtime fans of the brand, we are so ready to take on this new project and make our favourite pies known all across the city. Follow us on social media to stay tuned for all the exciting campaigns we have planned for Wisey's.
Want to know what else On Q has been up to? Check out the other projects we have on the go with our clients.