It's that time of year again – take a walk through Liberty Village, a drive down Lake Shore Blvd, or get off the GO at Exhibition station and your nose will no doubt fill with the mouth-watering aroma of funnel cake, fresh pizza slices, and, is that….yep, a slight whiff of horse manure emanating from the stables. The CNE has opened for the unofficial last two weeks of the summer for us Torontonians.
No doubt you've been exposed to the CNE in one way or another – maybe attending The EX has been an annual tradition since childhood, or perhaps you live in the area and those delicious scents have tempted you from breaking your summertime diet daily. Either way, we can almost guarantee that if your Facebook status says you live in or around Toronto, you've seen ads or read articles about the CNE coming to town (coming to city doesn't sound quite right….). Every year the CNE does an amazing job at using PR, social media, and advertising to remind us of its opening day and keep the hype going throughout the 18 days of its operation. What are some of the best tactics it uses to keep the media spotlight on it continuously, without seeming tired year after year? Let us tell you!
PR & Advertising
The CNE uses PR like a pro to maximize it's coverage of media outlets. Every year, whether it's good (dessert poutine!? I'll take two, thanks!) or bad (does anyone else remember the Cronut/food poising fiasco? So torn: want..to..try..but…..don't want to be out of commission for a whole day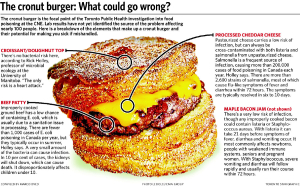 afterwards. UGH!), the CNE ensures that we get the 411 on everything that's going down in those 18 days, letting us know that there is something for everyone (foodies, animal lovers, and farmers market scroungers unite!). Mainstream media (such as the Toronto Sun and Globe & Mail) as well as local blogs and magazines are helping to broadcast articles on all the wonders of the CNE daily.
If you take public transit, you've probably also noticed ads creeping in on your daily commute (bus, train, or streetcar – resistance is futile!). The CNE knows that what works, works(!) and traditional advertising like this has certainly done the trick for the past 137 years of its operation. While traditional advertising has served them well, the EX also knows how important evolution is in reaching and keeping their audience engaged, which leads us to….
Social Media
The EX knows that there are very few people without a Facebook or Twitter account these days and it uses that to its advantage. If you have on your profile that you live in Toronto (or any of the surrounding GTA), you've probably had an ad or sponsored post pop up on your social feed. This isn't by chance – you've been targeted!

One final aspect of business that the CNE has been particularly active in is the evolution of its services and product offerings, something essential to any business' sustainability. Always having something new on the menu, bringing a new show to the stage and new shops to the market pavilions, and fun new exciting rides and tempting games will have interested attendees getting excited about 'what's new this year!' Keeping that product evolution going year over year keeps crowds interested and engaged – especially if it's a longstanding tradition to attend.
Will you be going to the EX this year? What are you most excited about and how are you reminded every year that the Canadian National Exhibition is back!?