It was March Madness at On Q Communications! In March we had the pleasure of launching Canada's first CycleBar in Canada, CycleBar Leaside. Which means we put on two HUGE events to mark the occasion, all while securing media hit after media hit for our clients. So get ready everyone, you're in for a long one.
Canadian Natural Health Retailer: Tonica Kombucha
Mar 1, 2017
Canadian Natural Health Retailer went crazy for Tonica when they found out this revolutionary health drink launched a consumer DIY Kit. The kit provides a lifetime supply of kombucha which acts as a body detoxifier. CNHR is a business magazine for Canadian health retailers with a readership of over 11,500.
Glow Magazine: Tonica Kombucha
Mar 1, 2017
Lisa Hannam featured a glowing recommendation to kombucha wonder Tonica Kombucha in Glow Magazine. The SCOBY rich digestive health tonic will jumpstart any stale routine. Tonica is in select Shoppers Drug Mart store. Read full story on page 63 of the April issue.
CTV Morning: Healthy Crunch
Mar 14, 2017
CTV Morning's Korey Kealey was all about healthy finds for the kitchen and your favourite kale chip company Healthy Crunch made the cut! From Hello Jalapeno chips to Kale Krumbs, this tasty health food snack will be a great addition to any home and diet.
Train It Right: CycleBar Leaside
Mar 14, 2017
Competitive Figure Athlete and personal trainer Alicia Bell from Train It Right came out to #RockYourRide at the CycleBar Leaside Media Party on March 9. Check out her vlog to see why she is calling CycleBar Leaside a "fun way to spice up
[your] cardio." Alicia Bell has worked with athletic heavy weights such as Dwight Howard (NBA) and Rashad McCants (former NBA). Train It Right is a personal training website.
Inside Toronto: CycleBar Leaside
March 20, 2017
Inside Toronto announced the grand opening of CycleBar Leaside to its readers with a feature in the East York Mirror section. MP for Don Valley West, Rob Oliphant and Toronto City Councillor Jaye Robinson attended community grand opening to welcome the first Canadian franchise. Inside Toronto is a division of Metroland Media and features stories of people and events within the local community.
Jenn and the City: CycleBar Leaside
Mar 17, 2017
Not even a cold could keep this blogger away. Our favouri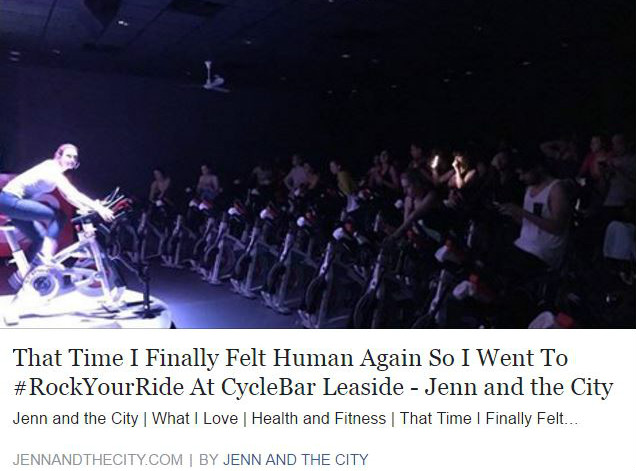 te city gal, Jenn from Jenn and the City, headed out to CycleBar Leaside Media Launch Party on March 9 still under the weather but ready to #RockYourRide. Between the heart pounding CycleSession and the tantalizing cocktail hour, the entire affair was "AMAZING." Don't take our word for it, read about the "energizing" experience on the blog. Jenn and the City is a Toronto lifestyle blog about the (mis)adventures of life in the big city.
24Hours: CycleBar Leaside
March 21, 2017
CycleBar Leaside got a whopping three-quarter page spread in 24Hrs which touted the grand opening of the new studio. It featured a Q&A with studio owner Doug Lennox as he shed light on the rising interest on spin classes in Toronto. He also stressed what separates CycleBar Leaside from the rest of the pack: its unique concert-like experience.
Healthy Happy and Hilarious: CycleBar Leaside
Mar 22, 2017
Health and fitness web guru Brit Linton was all smiles at the CycleBar Leaside Media Launch Party. The Healthy Happy and Hilarious blogger had a blast during the unique cycling class featuring a CycleStar instructor, CycleStats and high-energy music which kept her spinning to a beat. Healthy Happy and Hilarious is a Toronto-based lifestyle, health and fitness blog.
CP24 Dayside: CycleBar Leaside
Mar 22, 2017
It was CP24's Jamie Gutfreund turn to take CycleBar Leaside for a spin. The morning show regular stepped out of his comfort zone and into a CycleSession which showed off everything that makes CycleBar Leaside a stand out star in the cycling business: light shows, trendy music and the concert-like experience. If that doesn't grab you, watch CycleBar Leaside owner Doug Lennox throw water on Jamie!
The Things I Wish I Knew: CycleBar Leaside
Mar 23, 2017
CycleBar Leaside continued to make waves last month. The Things I Wish I Knew featured the premium cycling studio on the blog with a recap of their time at the Media Launch Party. They praised CycleBar Leaside's "luxe" spinning experience which is offered at a fraction of the cost of other high-end studios. The Things I Wish I Knew is a lifestyle blog by real people with real experiences.   
All Time Lo: CycleBar Leaside
March 27, 2017
"Let me tell you, CycleBar [Leaside] did not disappoint," wrote fitness and lifestyle blogger Lauren Ramesbottom from All Time Lo. Lauren gave a in depth play by play of the #RockYourRide experience at the CycleBar Leaside media launch party. Her favourite part? Personalized CycleStats showing how many you calories burned, your average cycling RPM and your ranking within the class.  
snapd: CycleBar Leaside
March 30, 2017
CycleBar Leaside's community grand opening was given a feature in community-based publication snapd. With free
classes every hour, face painting, good music and delicious food, it was an event to remember. Missed the fun? Catch the story on the front page of the April edition of snapd North Toronto and online.