New series alert! At On Q, we work closely with influencers from a variety of industries and streams. From fashion and lifestyle, to tech, foodies and DIYers, we connect with them all. While they each have a special niche, there's one common question they often get asked – how did you do it?
In our newest blog series, On Q with Influencers, we ask the same question to those influencers we are all crushing on and secretly envying.
We kick things off with advice from the beauty, fashion and lifestyle community. These women inspire others in the community through their beautiful and engaging content, whether that's through giving tutorials, beauty and fashion hacks, or sharing their own life experience and taking their audiences along with them on their journey.
Have you ever thought about starting your own online platform and using your passion to inspire others as an influencer? Here, six of Canada's favourite fashion, beauty and lifestyle influencers share their top tips on becoming an influencer!
Krystin Lee
Social Media Director + Content Curator
Find out more about Krystin at:
Krystin is a Social Media Director and the successful owner of Suburban Faux Pas, a bright and chic blog that shares Krystin's fashion, beauty and other inspirations. Krystin has been blogging and showcasing her creativity through fun, pastel colours, beautiful pictures and helpful blog posts for her readers since 2012.
"A Social Media Director by day and a Content Creator by night, I use my platform, Suburban Faux Pas to share my musings on fashion, décor, beauty and more with my followers. One outfit at a time, I'm seeking to prove that regardless of one's zip code, a stylish lifestyle and outlook can prevail."
Tip: Identify your niche! With an overwhelming amount of influencers joining the industry on the regular, carve out your own personal identity. Whether it's your photography style, editing process, career or more – find what makes you not only relatable but also noteworthy and lead with that. As a full-time employee, I try to weave career advice, work-wear and more into my content as a means to connect with my readers.
Erin Elizabeth
Lifestyle Blogger and YouTuber, Owner of Byerinelizabeth.co
Find out more about Erin at:
Erin is a lifestyle YouTuber and Blogger. She has a passion for creating videos and telling stories visually. Her focus is mainly fashion and beauty but she also believes in promoting positivity and creates content surrounding healthy and happy lifestyles.
"Life's a journey which you get to determine the outcome, so we want to inspire building your own path doing whatever brings you happiness."
Tip: My only advice for aspiring creatives would be to focus on what you love and what you're passionate about. Produce content that you are happy with and do it because it makes you happy and for no other reason. Your influence should come as a result of building a community of like-minded individuals who share the same passions. Your main goal should never be to become an influencer, it should be sharing your passions, learning, and becoming an expert in your field… with that comes the influence.
Amanda Reid
Canadian Life & Style blogger, Owner of Rose City Style Guide
Find out more about Amanda at:
Amanda is the voice and the style-savvy mom behind the Canadian Life & Style Blog, Rose City Style Guide.  A Media Strategist by day, Amanda has always been inspired by fashion, beauty, and home decor.  When not blogging, Amanda can be found with a cup of coffee snuggling her son Finn or at the nearest mall with friends.
"Before Rose City Style Guide, I loved checking out my favourite Canadian and American Fashion and Lifestyle blogs, but there wasn't one that had everything I wanted in one space; so I though 'Why can't I create one?" And that was that!"
Tip: Just do it! For too long I sat on the sidelines of the blogging industry watching as some fabulous people share and inspire others.  Looking back, I would be exponentially further along in my career if I would have taken the plunge when I was first inspired to become an influencer. Originally, I was too consumed with the idea that no one would appreciate what I had to say and didn't even realize that isn't the most important aspect.  Just be authentic from the start and you will organically build a following.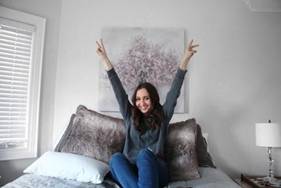 Melissa Marinucci
YouTuber, Owner of Can You Carry My Bags
Find out more about Melissa at:
Melissa is the creator of Can You Carry My Bags, a lifestyle brand that's all about inspiring, motivating, and empowering others. Melissa has a blog, YouTube channel, and instagram account all about lifestyle topics, travel, self-improvement, and more! She started her channel 5 years ago but only started posting consistently 1.5 years ago!
"5 years ago, my mom told me that I should make a YouTube channel because I talk a lot so I made a YouTube channel and then an Instagram page shortly after. I named it "canyoucarrymybags" because I have always loved shopping but I hated holding all my heavy bags! Initially, my channel was mostly about fashion but now it has transitioned to be more of a lifestyle brand."
Tip: My number #1 tip in this industry is BE YOURSELF. There is so much competition on social media these days and the only way that you can stand out is by being yourself! There is no one else in the world exactly like you. I really learnt this lesson in 2017 and that's why I transitioned my brand to be about topics that I am currently passionate about such as self-improvement. I now focus on being true to who I am and it makes me more motivated to produce content in general!"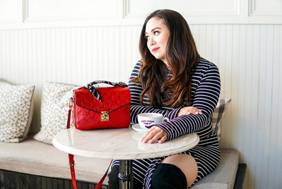 Rachel Dinh
Life & Style, Owner of www.racheldinh.com
Find out more about Rachel at:
Rachel is a fashion and lifestyle blogger who uses her blog to offer tips based on lessons she learned over the years. Her advice is geared to women onhow to create or enhance their own style using different types of inspiration. Rachel started her style guide and has been helping women find their fashion sense since November 2014.
"My blog and Instagram is a destination where fashion and beauty meet food and lifestyle. I like to give my readers a VIP pass to all things chic. I enjoy exploring the latest trends, trying out new foods and am always up for a good adventure."
Tip: The only way to have a sustainable career as an influencer is by being honest and true to yourself, your partners, and your followers because if you're not, people will eventually see right through that and lose respect for you.   Being an authentic blogger means staying true to myself. Sometimes I get great partnership offers and I wind up turning them down because it's not a fit for me or my brand. In the short-term it may seem painful but staying true to my brand is far more important than any immediate gains."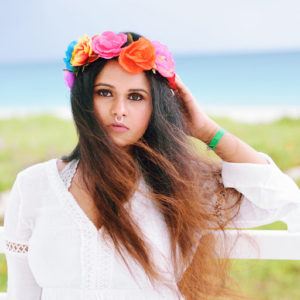 Jhumki Nag
Beauty, Fashion & Lifestyle, Owner of THAT NEON GIRL
Find out more about Jhumki at:
Jhumki runs a Beauty, Fashion and Lifestyle blog "THAT NEON GIRL" based near Toronto, Canada. Being a past beautician by profession and a fashion enthusiast all throughout her life, she started her blogging journey in January 2016 as a way to share her views with others. She is very particular to share beauty products which are natural, gentle to skin and part of her own beauty regime. While coming to fashion she dares to wear and share all girly to all #bossbabe looks which are trendy, fashionable and most important, classy!
"Why THATNEONGIRL? Because Neon lights give me the feeling of a dream world. I love nature, the smell of rain, the darkness of woods, the whiteness of snow, the orange sky when the sun takes break. I also love those little brunches with my loved ones, browsing the antique shops in small towns collecting the cute colorful teapots! White sands touching my feet makes me romantic and sitting beside a campfire all night gossiping touches my heart!"
Tip: "My biggest tip is do not start this journey if you are not prepared. It takes time to learn, so research, study and know your field of expertise. Try it yourself and feel it before telling anyone. Along with knowledge, proper marketing is VERY crucial; so don't hesitate to invest money to get all the tools and platforms needed to present it with elegance, believe me it will pay you back. Last but not least, be yourself and show what you are, not everyone will love you but those who do are your real fans!"