[fusion_builder_container hundred_percent="yes" overflow="visible"][fusion_builder_row][fusion_builder_column type="1_1″ background_position="left top" background_color="" border_size="" border_color="" border_style="solid" spacing="yes" background_image="" background_repeat="no-repeat" padding="" margin_top="0px" margin_bottom="0px" class="" id="" animation_type="" animation_speed="0.3″ animation_direction="left" hide_on_mobile="no" center_content="no" min_height="none"][fusion_sharing tagline="Share This Story, Choose Your Platform!" tagline_color="" title="" link="" description="" pinterest_image="" icons_boxed="" icons_boxed_radius="4px" box_colors="" icon_colors="" tooltip_placement="" backgroundcolor="#ffffff" class="" id=""][/fusion_sharing][fusion_text]In Canada's east you'll find Quebec City – one of the only places in the country resembling Europe. Visitors can be seen playing a balancing act as they walk along the cobblestone roads; cathedrals catch your gaze at every corner; the St. Lawrence River will offer pieces of history dating back to the 1600's. It's a city with a booming tourism industry. A city with a hotel the internet can't seem to get enough of: Auberge Saint-Antoine.
Situated beside the majestic St. Lawrence River this historic, top-rated hotel can be found receiving awards year after year. Whether it's international sites recognizing the hotel as the 'it hotel,' or local cab drivers insisting that you indulge in the hotel's culinary delights, the Auberge Saint-Antoine is known as THE place to stay. Which is exactly why this hotel is a #BrandsOnQ.
#BrandsOnQ: The Auberge Saint-Antoine Hotel in Quebec City
In today's digital world customers' reviews have become an integral piece of the travel industry. Up-to-date images are shared, first-hand experiences are posted, faults are publicized. Websites such as Trip Advisor have given customers a powerful voice, enabling top-notch hotels to thrive and mediocre hotels to fail. And it's this customer voice that the Auberge welcomes.
Tip: If you're good at what you do, customers will provide you with the best form of marketing money can't buy: word of mouth marketing.
As you scroll through the Auberge's Trip Advisor profile you see what every hotel dreams of: a plethora of positive reviews. It's top standards in service and excellence have customers from around the world raving. 
"Absolutely the best." "Best hotel experience." "Even better than the pictures!"
The authentic, first-hand accounts of the hotel are a huge selling feature to potential customers. Even the negative ones…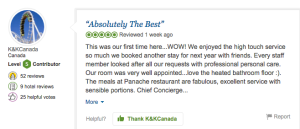 When sites like Trip Advisor first began giving customers a voice, many brands became scared. Negative reviews were often viewed as negative press – an uncontrollable situation. But contrary to popular belief, controlling an online reputation is possible.
Take the Auberge for example. Every negative review on Trip Advisor has a response by the Director of Sales and Marketing. A real, authentic response. She doesn't direct the user to a phone line, she doesn't write the same robotic reply, and she doesn't ignore the comment.
Instead she takes the time to familiarize herself with the situation, respond in a genuine manner, and show that the hotel cares.
This action of responding gives the Auberge the ability to control the negative message. By simply responding, the hotel is changing the negative review into an authentic conversation that showcases it's number one selling feature: customer service.
Tip: Ignoring a negative comment is worse than getting one. Welcome feedback and leverage negative reviews to showcase your customer service.
Online reviews are an indispensible marketing tool that has ranked Auberge Saint-Antoine as a Traveler's Choice Top Hotel for years. How? By integrating themselves into the online world.
We live in a digital world where brands must welcome online conversations.  Negative or positive, it's important to be transparent (let's face it, mistakes sometimes happen!). The Auberge is a prime example of how brands can use the internet to control the message. And the best part? This marketing tool is free.
[/fusion_text][/fusion_builder_column][/fusion_builder_row][/fusion_builder_container]