Eat. Drink. And be Merry.
Satisfy the foodie in your life with this season's most highly-rated stocking stuffers. From healthy snacks, to comfort food, to beer in a box, we've got you covered across the GTA.
Healthy Crunch
Stuff those stockings with Toronto's latest food sensation: artisanal kale chips from
Healthy Crunch
. These vegan, non-GMO, school-safe snacks are now available Canada wide. Found in Starbucks, Whole Foods, Loblaw's, Healthy Planet and so many more locations, they'll give a whole new meaning to holiday crunch time!
Monkey Business
You won't be causing any monkey business with these krumbs. The cocoa powder in this vibrant flavour satisfies your sweet tooth while the cinnamon and banana work together to lower your blood sugar and maintain a healthy heart. Often used to top off yogurt, cereal or fruit salads, these krumbs give your foodie something guilt-free to look forward to. $7.50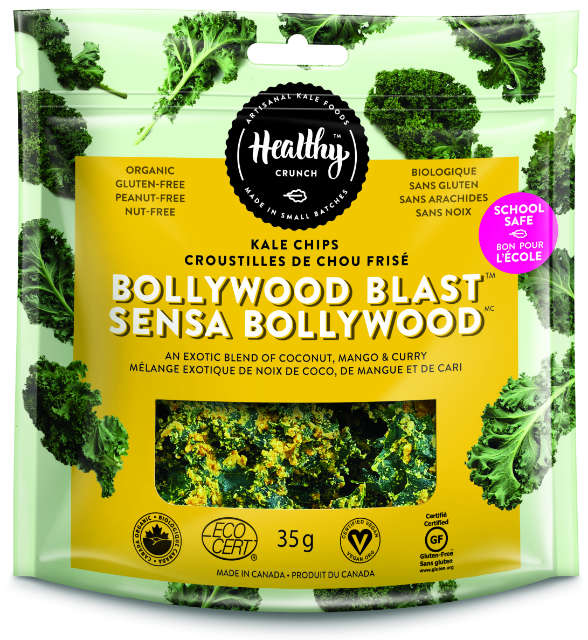 Bollywood Blast
A bold name to go with a bold flavour. Bollywood Blast is blended with turmeric, ginger root and mouth-watering mangoes to work as an antioxidant that soothes your body. These vibrant yellow chips blast your palette wide open as they transport you to India and back. $4.49
North Shore Pie Co
Craving some culinary travel? North Shore Pie Co. brings the taste of New Zealand right to the 6ix, offering the city's most scrumptious kiwi pies around. With a Roncesvalle location and a new warehouse opening in Etobicoke in the New Year, one gift card will ensure your foodie fanatic always has access to this to-die-for comfort food. $6.50
Nona Vegan
ICYMI you don't have to be vegan to enjoy vegan food!
Nona Vegan
started winning the hearts of vegans and carnivores alike when it won the best mac and cheese at the Mac and Cheese festival in Toronto. This selection of artisan, high-quality sauce is packed with flavour that will warm your belly and have you craving more. It's the perfect gift for the foodie with a knack for cooking, the foodie who loves to explore new tastes, or the foodie looking to eat healthier. With sauces like Alfredo-style, Cheesy-style and Carbonara-style, you can't go wrong! Sauces start at
$6.99
and can be found in health food stores across Toronto.
Brew Box
Surprise your beau this holiday season with the gift that kee
ps on coming: a craft beer subscription!
Brew Box
is a subscription service that delivers hand-selected, craft beer to your doorstep every month. Not only are there five distinct packages to choose from – Brewscovery Club, Sawdust City Club, Silversmith Club, The Collingwood Club, Beau's Club – every package includes new beers catered to your palette. It's such a unique gift, your foodie fanatic will never know what you have brewing up your sleeve! Packages start from
$58 per month
.
With the holidays quickly approaching, On Q is here to supply you with everything you need to keep the important people in your life happy, hungry and eager for more.