It was a kiwi-inspired day as hundreds gathered at North Shore Pie Co. for #FreePieDay. The New Zealand-inspired gourmet bakery celebrated the opening of a new retail location in Etobicoke at their Roncesvalles store with free pies, warming the hearts and tummies of Toronto!
On Saturday, April 29th, over 700 Torontonians joined in on the fun. Whether a New Zealander expat abroad, or simply a Canadian ambassador, no one could resist the authentic kiwi meat pies and treats North Shore Pie Co. was serving up.
And what's #FreePieDay without a pie eating contest? Special guest Denzil Minnan-Wong, Deputy Mayor of Toronto, indulged in an epic showdown against North Shore Pie Co. owner, Anthony Spinley and a guest from the crowd.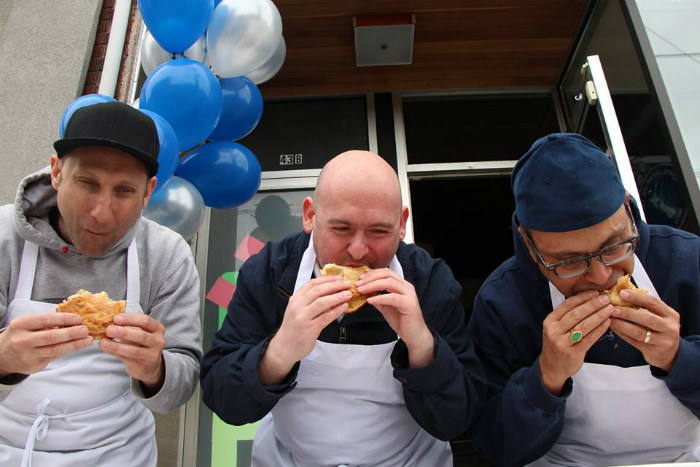 Game faces were on as all three contestants stepped up to the table, about to gulp their way to victory. It was a tight race, but Mr. Minnan-Wong took the cake (or should we say, pie). Claiming the title as an impressively fast pie-eater, Mr. Minnan-Wong donated a portion of the proceeds from the day to one of his favourite charities, Share Life.
Other special guest included Arif Virani, MP of Parkdale-High Park, who was thrilled to experience Roncesvalles' New Zealand-inspired bakery for the first time. After one bite into the scrumptious pie, he was hooked!
North Shore Pie Co. has been part of the Roncesvalles community for three years, and planned #FreePieDay to give back to the community who has shown continued support. They are delighted to bring a small, but very delicious, piece of NZ to YYZ.
Interested in community events? Check out the public grand opening we hosted for CycleBar Leaside – the first CycleBar to ever hit Canada!