Whether you're looking to raise your public profile or hoping to get the word out about a new product, media coverage is one of the best ways to get your company noticed. Like all good things, successful media publicity is the result of hard work and careful planning. Here at On Q, we get the job done for our clients. Here's a look at some of the media coverage we secured in February:
Condos.ca
In mid February, Goran Alexander, Vice President of Pre-Construction and Sales at Condos.ca, was featured in a segment on Global News. "The holders of bitcoin are pretty sophisticated and now they're thinking, 'I've done well. Put me into something tangible,'" he said. Watch the full feature here.
Other media hits:
Globe and Mail – Ontario regulator probes cryptocurrency use in real estate- https://tgam.ca/2HBTH0A
The Healthy Crunch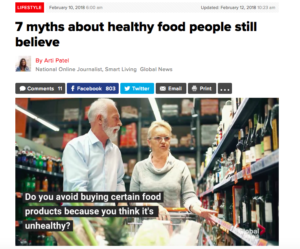 Queen of Kale and The Healthy Crunch Company founder Julie Bednarski was featured in a GlobalNews.ca blog post on February 10th, 2018. In this article, Julie shares the 7 myths about healthy food people still believe. You'll be surprised with what she has to say! Read the full feature here.
Professional Organizers in Canada (POC)
Susan Toth, President of Professional Organizers in Canada (POC), wrote an article that was featured in City Parent. This article is about how to reduce stress while packing for March break travel.
Other media hits:
Modern Mississauga – Smart tips on how to pack efficiently for any vacation or trip– http://bit.ly/2GGBkXg
CTV Kitchener – Digital Organizing Tips with CTV Quick Fix at Five  http://bit.ly/2CPU4Rt
Three Farmers
On February 22nd, Just in time for National Heart and Stroke Month, Three Farmers shared some heart healthy tips that could save lives! This article was featured in Simcoe.com. To read the full feature, click here.
To see a list of our media hits from previous months, click here!