The Holiday countdown is on, and although it may seem like the most wonderful time of the year the stresses that come with this festive season can pile up quickly! Between holiday parties and battling mall crowds, it can be hard to stick to your healthy lifestyle during the hustle and bustle of the holidays. That's why in our November installment of Better for You by On Q, we are sharing some of our favourite brands that will enhance your morning routine and help you stay on track during this busy holiday season! Whether it's nutrient packed smoothies, natural deodorant, or nourishing soaps, our team is sharing some of our favourite ways to start the morning off right and keep healthy as we head into the holidays!
Fru-V Smoothie Kits
Trying to get three young kids out the door on any given day can be a challenge! Doing this during the month of December is a nearly impossible task. Getting my kids dressed for school during this snowy time of the year… Now that's the tricky part. It's safe to say that our mornings become quite chaotic during the holiday and winter season, so I am always looking for new ways to streamline our morning routine so that everyone gets to where they need to be in one piece! That's why I love incorporating fru-V Smoothie Kits into our daily schedule! Their ready-to-blend smoothie kits come with pre-measured portions of fruits, veggies and superfoods that are packed with fibre and protein… all I have to do is add the contents into a blender with water, and blend!
The best part? We all LOVE the taste and we get a sweet, nutrient-rich treat before we start our day!
Livia Grujich, Co-founder & Partner
Crate 61 Soaps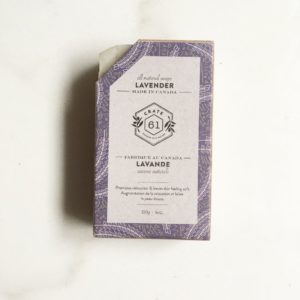 I can't decide what I love more about these soaps… the scent or the way they make my skin feel! Both are equally incredible! My skin is particularly susceptible to the change in seasons, so when the temperatures begin to drop my skin gets very dry. I'm always looking for new natural skincare products to help tackle these seasonal changes and Crate 61 all natural, nourishing Soaps are absolutely one of my favourite ways to help combat dry skin. The amazing scents don't hurt either!
Each morning I use Crate 61 Soaps and I have to say it makes my skin feel SO amazing! I love these soaps so much that I actually gifted them to my bridesmaids and put them into my parent's stockings every year for Christmas!
Brit Linton, Social Media and Influencer Relations Manager
Routine Natural Deodorant
The holidays are our busy time of the year here at On Q, but no matter how chaotic it gets at the office I try to squeeze in a workout each morning before heading into work. I feel like it really helps set the tone for a positive and productive work day! My absolute favourite post-workout, natural deodorant to use is routine! Why? Because it's a natural deodorant that actually works! Believe me when I say that this is no easy task. But routine is an effective deodorant, that is great for our bodies and the environment… and it's pretty stylish to boot! I love everything about it!
Tanya Dodaro, Co-founder & Partner