Needless to say, we kicked off September with a bang. Bringing the Taste of New Zealand into Hemingway's Restaurant & Bar, inviting the best of the best and what, you may ask, is the cherry on top? Glam photos, big laughs, a great night and some wicked shout-outs! That's what we call "sweet as, Mate" (Kiwi Slang for "really awesome, friend").
Travelling Foodie
Stunning photos, an eye for the perfect shot and delectable food! The Travelling Foodie took stunning instaphotos and beautiful photography. This Foodie revealed that with all the stunning New Zealand tributes to nature, water and beauty, everything just melded together to create an unforgettable experience. And that was the point! Wanting North Shore Pie Co's food to melt into mouths and hearts of our guests. 
"Mouth-watering gravy, made with herbs, and combined with local cheddar cheese!"
– Travelling Foodie
Hangry Foodies

On that note, Hangry Foodies absolutely nailed it with not only great photography but noting that the pies were flakey and layered with no fillers! Love is in the details and we love how Hangry Foodies called out North Shore Pie Co's Bonnie for her incredible work. And as if that wasn't good enough, they collaborated their efforts for a North Shore Pie Co giveaway! That's definitely satisfaction guaranteed.
Global News

Although we are full-fledged support
ers of indulging yourself over the holidays, keeping your body and your work space ready for your busy lifestyle is essential. So here's Julie Bednarski to the rescue! Julie speaks with Sangita Patel and Jeff McArthur about smart back-to-school lunches to make healthy living an easy transition from the summer to school. Julie brilliantly shows us how to colour co
de our pantry snacks so kids can understand, both cognitively and visually, which foods to avoid, limit or indulge! She says that red should be for artificially flavoured or coloured food that your children should definitely avoid, yellow is for naturally flavoured but still harmful snacks that your kids can have in moderation and green is for foods you should encourage your kids to eat and in fact don't need to
limit. Healthy Crunch Kale Chips ranked number one in green light foods. These chips are packed with Vitamin K, Iron and detoxifying properties to keep your kids internally happy and healthy all year round!
Investment Executive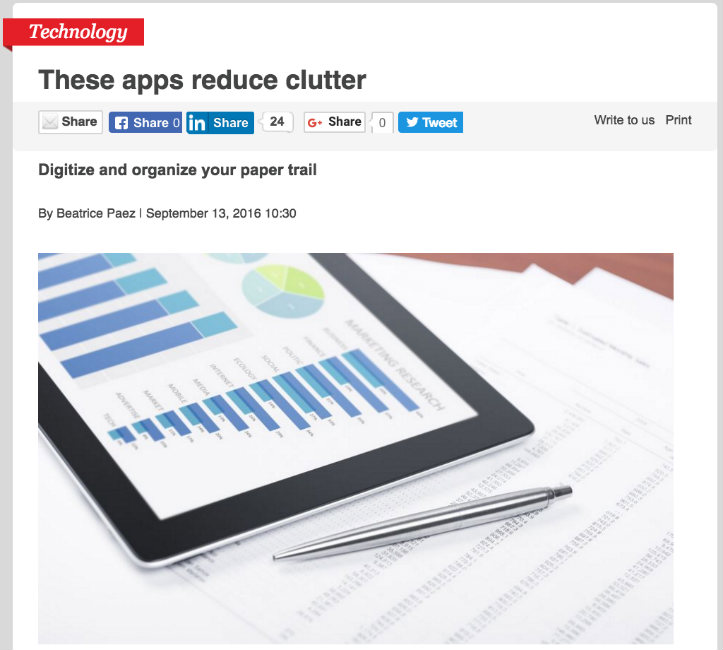 Linda Chu, Professional Organizer in Canada, sits down with Investment Executive to discuss the different ways to keep that thing your entire life is on (your phone) organized. #Phew!
As "the drive toward the paperless office as a means of boosting productivity has resulted in numerous apps aimed at reducing paper clutter, people really have to look at their personal habits, extract from the app and find something that's personalized for them." Linda reveals apps like Doodle, MileBug, CamCard Free, LastPass and Receipts by Wave as must-have apps for the workaholic. These apps will: cut down time spent on syncing conflicting meeting schedules, tracking kilometers spent on work travels, fast scanning of business cards onto your phone, managing passwords, and personal bookkeeping for those business lunches and conference that seem to be one after the other.
Red Pin
Another Professional Organizer i
n Canada giving Redpin readers a lot helpful advice on organizing our homes for the holidays? Rachael Stafford, a Professional Organizer, talks about everything from the entrance of your home to optimizing space. Rachel goes into detail on how to organize your kitchen, storage space and bathroom, which makes her advice unique in that it is big picture and still detail oriented.
A mouthful? We know. But without some scrumptious pies, healthy chips or an organized phone and home space how could we ever go on?