The goal of media relations is not only to obtain media hits, perhaps more importantly, successful media relations relies on building long term relationships with the key media players that share your audience.  A great strategy for this is to give the media a chance to get up close and personal with your product or service by experiencing it first hand.  Ste. Anne's Spa seems to have perfected this strategy, referring to it as a"'try what you want them to buy' mentality," making them our latest #BrandsOnQ.
Our previous #BrandsOnQ Sloane Tea made a perfect marriage between their online and offline marketing.
Ste. Anne's is a resort style spa located located in Grafton, Ontario, just an hour outside of Toronto. They are truly iconic in the spa industry and offer relaxation in a fairytale country setting. It's no wonder that their media visitors continue to rave about them.
Ste. Anne's treats media like royalty. Wanda Hoehn knows the crucial role these media visits play in the overall success of Ste. Anne's, she says they "bring writers and editors down for the entire experience so that they can live and breathe Ste. Anne's Spa."
These VIP guests are introduced not only to the typical amenities of the spa but also to unique features that many may not know is part of the Ste. Anne's experience. This includes a gluten free bakery and their own skincare line, both of which they acquire ingredients for from their four gardens. They even have their own beef and honey bees!
This tactic has earned Ste. Anne's a slew of media hits online, in print and on television, from CTV Canada AM to Canadian Living to the Toronto Sun and more.  The variety of topics covered are very unique and very specific to the brand.   This coverage reflects the customization that Ste. Anne's creates for each media experience.  Wanda Hoehn, Director of Sales and Marketing, explains that "another story on the benefits of visiting a spa is not really going to get too many excited, so we always pitch and allow media to experience some of the more unique aspects of our spa to peak their interest and make us stand out." This is very evident when browsing through their many media hits. For example, the Canada AM segment features recipes from Executive Chef Jeffrey Wilfong and the Canadian Living article focuses on their skincare line.
If you are looking at creating unique media experiences for your brand contact us for suggestions on how to get media attention.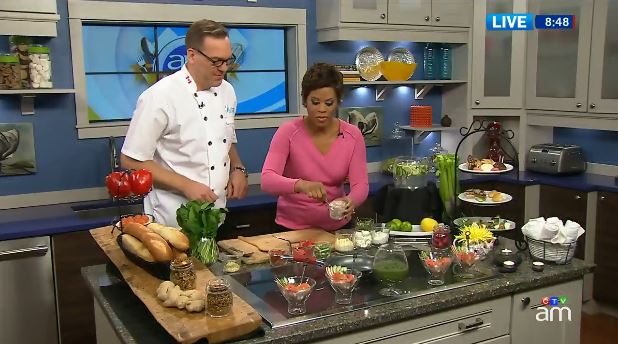 It is of utmost importance in the world of PR to not only make a media connection but to make these connections last. Co-founder Tanya Dodaro explains, successful media relations comes down to, "building relationships for the long term and telling great stories."  We've established that the media that is invited to experience Ste. Anne's will likely return but because they have been treated to such amazing experiences they will likely think of Ste. Anne's when looking to feature a spa next time they are assigned a wellness story.