So you've got an exceptional brand and a superb strategy to gain exposure but the market is so saturated that it's difficult to break through the surface and highlight your specific brand. Time to think outside of the box!  A unique and effective PR strategy that can be applied in this case is to leverage partners by creating a mutually beneficial relationship. When these partnerships are carefully selected they will help gain exposure for your brand both online and offline. This is exactly what Sloane Tea has done, earning them a spot on our #BrandsOnQ list.
Sloane Tea is expertly sourced by certified tea sommeliers from hundreds of tea gardens around the world and then blended in Canada. Since their are so many players in the world of tea, using partnerships as a PR strategy is one of the ways that Sloane Tea gets the crowds to notice them.  In many cases, partners will often post content about each other and repost content, such as photos and videos. They may even serve as a form of offline advertising at physical locations.
Missed our last post? See how Prairie Girl Bakery's book made them a #BrandsonQ brand.   
One successful partnership for Sloane Tea has been  Kitten and the Bear, the makers of delicious artisan preserves—a perfect pairing to a hot cup of tea. A partnership like this gets extra exposure for Sloane Tea on an Instagram page that isn't there own. It's always a plus to have potential customers directed to your page from a brand that they already love. This will increase the traffic on your page and assist with SEO (search engine optimization). This is a great form of advertising as people are hearing about your brand from a source that they already trust and enjoy, rather than a traditional form of advertising that may be less personal.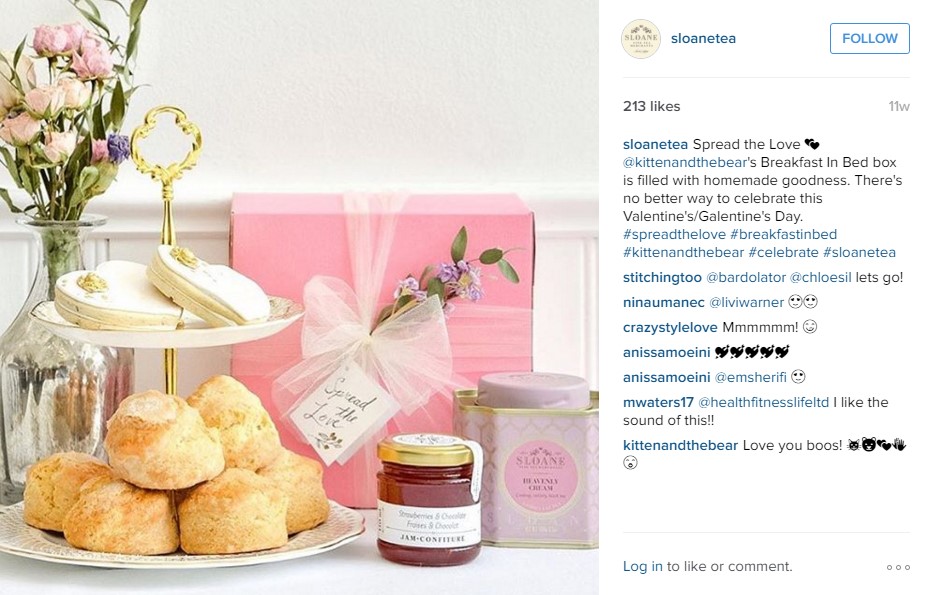 Not only do both brands get exposure across multiple accounts but they are also getting content created for their own page. When Kitten and the Bear creates features such as their "Breakfast in a Box" they are sure to include a beautiful Sloane Tea tin. It is important to note that this pairing works not only because tea and preserves go hand in hand but also because both brands have a similar style, making it easy to seamlessly post each other's content.  Images such as this example fit the aesthetic of both brands and they are sure to be posted on @sloanetea.
Want to see where your social media stands? Give us a shout for a free Temperature Check.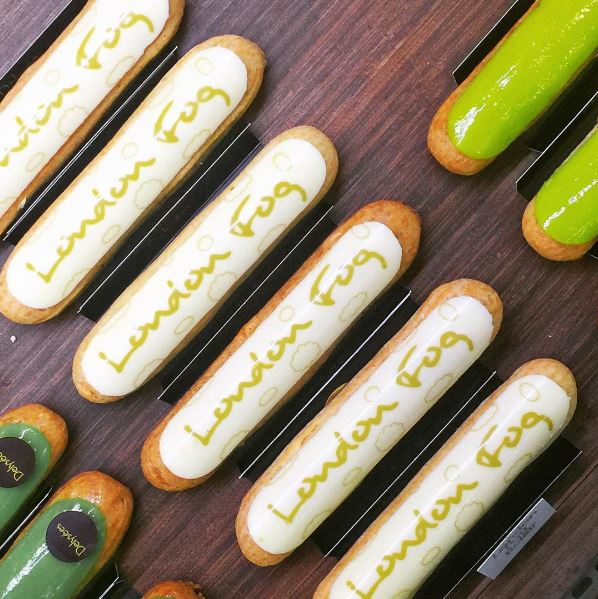 Owner of Sloane Tea, Hoda Paripoush, refers to these partners as "brand ambassadors that create a unique brand experience." Sloane Tea has also combined forces with Delysees French Bakery, who makes their London Fog eclair with Sloane Tea's Heavenly Cream tea. This time, Sloane Tea not only gets exposure from Delysees' social accounts but also in person when people visit the bakery. Delysee, as well as most of Sloane Tea's other partners, also have the tea caddies for purchase.
Sloane Tea made the right move with creating lasting and meaningful partnerships that are sure to continue to benefit both partners. They have gained extra exposure as well as fresh content and places to carry their products. When we sat down with Hoda Paripoush she was clearly ecstatic about what the future had in store. She says they "strive to set a certain tone and create a certain mood where [fusion_builder_container hundred_percent="yes" overflow="visible"][fusion_builder_row][fusion_builder_column type="1_1″ background_position="left top" background_color="" border_size="" border_color="" border_style="solid" spacing="yes" background_image="" background_repeat="no-repeat" padding="" margin_top="0px" margin_bottom="0px" class="" id="" animation_type="" animation_speed="0.3″ animation_direction="left" hide_on_mobile="no" center_content="no" min_height="none"][they] feature both brand-aligned products. It's a very powerful means of brand awareness, and one with which we're just getting started."
It's this kind of out of the box thinking that will take your brand to the next level!
We are experts at gaining exposure for our clients. Does your brand need a boost? Contact us today to get started.
[/fusion_builder_column][/fusion_builder_row][/fusion_builder_container]